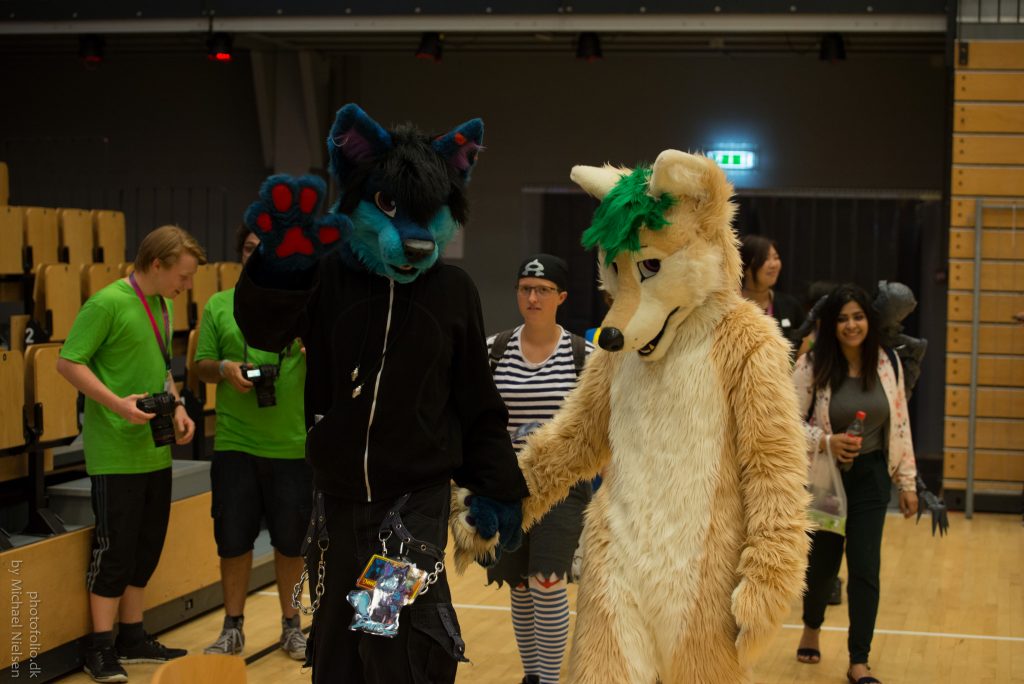 This is the first time for us to have a dedicated room as this, so we hope members of the furry community will help us out in shaping the experience we all want to have with it.
By establishing a headless lounge, we are showing that we care for all groups of guests, no matter how they choose to carry out their passions, and we trust our guests to support our decision.
Access and security
The Headless Lounge is placed next to the staff HQ and cloakroom, and there will be staff guarding the door during all opening hours (see below). We have decided not to place anyone -inside- the lounge, since we feel that would be too much personnel and a bit intrusive.
As it often is, we can not guarantee the safety of belongings left in the lounge, but it is a very isolated location, and we hope and trust in the community of our guests.
Primary Purpose
The main purpose of the area is to assist the furry and full-body cosplay (defined by full body coverage, head included) portion of our guests, especially in this blazing heat. Having to break character can be quite the downer, and this area is ment as a safe zone where participants can go out of character for a quick breather.
Other cosplayers, wearing particularly hot or bulky cosplays, will be granted access on a case-by-case basis, as evaluated by staff and medic team. We must, however, stress that the room is there out of practical necessity; to cool down and stay hydrated, not as a new hangout or event location, so we ask that those who enter don't stay longer than necessary.
If other guests have issues with overheating because of their costumes, please talk to security or the medic team right away.
Respecting the lounge
We ask all guests to respect the privacy of the headless lounge, no matter the situation. Even if you are curious, this is not enough reason to enter; please only enter if you are wearing a full-body costume, or are a direct handler for a cosplayer inside.
Please do NOT take pictures of the cosplayers inside the lounge; wait for them to exit, ask politely and give them a fair chance to get back into character.
Opening hours
| | |
| --- | --- |
| Day | Hours |
| Friday | 12:00-00:00 |
| Saturday | 08:00-00:00 |
| Sunday | 08:00-12:00 |